Path closed after Cumbria cliff collapse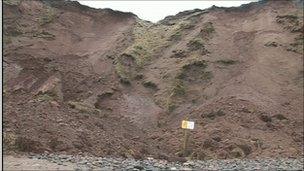 Walkers are being warned of the dangers of ignoring the closure of a Cumbria coastal footpath after a section of cliff collapsed into the sea.
The first stage of the coast to coast route between St Bees and Fleswick Bay was closed after about 150ft (46m) of cliff face gave way on Monday night.
Cumbria County Council said despite that, some walkers had been seen on the path.
It warned about the risk of further collapses.
It said a survey of the landslip had found sections of the path were unsupported from underneath.
Council rights of way officers are due to contact the owner of a field next to the landslip to explore the possibility of access so a path could be opened again.
It said: "The county council is aware that this is a popular route and school half term is imminent.
"It is therefore urgently working on alternative arrangements, which also involves discussions with Defra (Department for Environment, Food and Rural Affairs) as well as the local landowner."
Related Internet Links
The BBC is not responsible for the content of external sites.