Cumbria Police posts cut as budget confirmed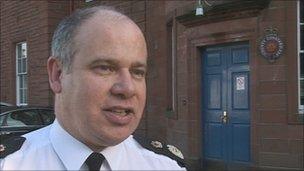 There will be 100 fewer police officers in Cumbria, it has been confirmed.
Cumbria Police Authority has set its final budget, which involves savings of £18.7m over the next four years, describing it as "unprecedented" times.
As well as the officer number cuts, which will be achieved through natural wastage, 235 staff posts are going.
Authority chairman Ray Cole said it supported the force's programme of cuts and asked that frontline policing was not affected wherever possible.
He said: "The budget that we have agreed today is the first in a four-year transition period and it is forecast that 66% of the budget cuts required will be in the first two years.
"The constabulary faces some difficult challenges due to the scale of the budget cuts over a four-year period."
Cumbria Chief Constable Craig Mackey said it was a challenging time for the force.
He said: "It is a relatively small number of officers but I don't underestimate the impact that these reductions will have cumulatively in terms of visibility of officers.
"What we are working on is that we have got people available and we are still able to meet the demands that come in from the public."
But Andy Wilson, chair of Cumbria Police Federation, said he was concerned about the impact.
"There are going to be less police officers covering bigger areas," he said.
"In Cumbria's case we have a lot of rural villages and towns so those response times are going to be cut down.
"Because it's a myth that we can meet those responses with the 20% cuts that they are telling us we must do."
Related Internet Links
The BBC is not responsible for the content of external sites.