Cumbrian teaching assistants in pay protest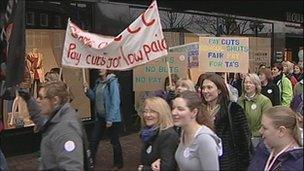 About 700 teaching assistants took to the streets of Carlisle to protest about changes to pay and conditions.
Cumbria County Council is introducing a nationally agreed pay structure, which some workers say could see salaries cut by up to £3,000.
The trade union-backed march through the centre of Carlisle converged on the town hall.
The authority said it was sympathetic to those facing big pay cuts and was involved in a number of appeals.
The council said the new pay structure would be fairer, with some staff better off under a single-status pay scheme.
But it admitted the change could mean some of the county's 3,500 teaching assistants being worse off.
Demonstrators handed a petition to council leaders.
Unison regional organiser Dave Armstrong said: "Teaching assistants face immense pay cuts in what is already an underpaid job."
He said he wanted council officials to know the strength of feeling among staff facing a drop in living standards.
Councillor Elizabeth Mallinson, who has responsibility of implementing the new pay structure, said: "We are sympathetic to all our staff because they all work very hard.
"But we are going through the correct procedures at the moment through the appeals process."
The council said it was forced to bring in changes to avoid equal pay legal claims.
In Cumbria, teaching assistants are currently contracted to work 32.5 hours but are paid for 37 hours a week.
The changes are due to take effect from September 2012.
Related Internet Links
The BBC is not responsible for the content of external sites.