Cumbria gunman Derrick Bird 'shot brother 11 times'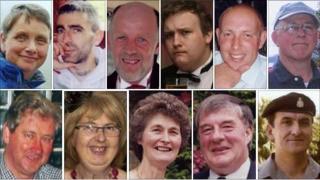 Killer Derrick Bird shot his semi-naked twin brother David 11 times with a rifle after confronting him in his bedroom, an inquest has heard.
Relatives of those killed by Bird, 52, held hands to their faces as they heard details of his rampage through West Cumbria from Det Ch Supt Iain Goulding.
The taxi-driver's killing spree on 2 June last year left 12 people dead.
Armed with a 12-bore sawn-off shotgun and a .22 rifle, he called victims over as if to ask the time, then shot them.
On more than one occasion he left his vehicle, changed his weapon to the rifle, and finished off his injured victims by shooting them in the head at point-blank range, the inquest at the Energus Centre in Workington heard.
The details of the killings were given by Mr Goulding, from Cumbria Police, the senior investigating officer.
Mr Goulding outlined many of the motives believed to have sparked the killing spree.
They included an investigation by tax inspectors into unpaid income tax and insults from fellow taxi drivers about Bird's personal hygiene and the cleanliness of his vehicle, the inquest was told.
The 12 inquests are being held in the order of the victims' deaths, with the first victim being Bird's brother David.
Bird, of Rowrah, also injured 11 others during the rampage in Lamplugh, Frizington, Whitehaven, Egremont, Gosforth and Seascale before he was found dead in a wooded area near Boot.
He had shot himself in the head with his rifle.
During the shooting spree, Bird fired 29 shotgun cartridges and 80 rounds from the .22 rifle.
Mr Goulding said: "Derrick Bird appeared to have developed irrational fears about being imprisoned for the tax matters, made worse by the belief his brother and solicitor were conspiring against him."
Appeared unshaven
The night before the shootings, Bird, speaking to fellow taxi driver Peter Leder, said: "You won't see me again."
Bird left his home in the early hours of 2 June and went to his twin's house. He shot him in the neck, face, head and back - David Bird had suffered 15 different exit and entry wounds to his body.
Bird was next spotted outside the house of 60-year-old Kevin Commons in Frizington at about 0530 BST.
Four-and-a-half hours later the solicitor left his house but his driveway was blocked by Bird's car.
Bird fired twice with his shotgun at Mr Commons, hitting him once in the shoulder, before the injured man scrambled out of the vehicle and ran back to his house, pursued by Bird.
He was later found dead with two rifle wounds to his head.
Bird later headed for the taxi rank on Duke Street, in Whitehaven, where he had worked and had disputes with colleagues.
He spotted fellow taxi driver Darren Rewcastle, 43, and called him over before shooting him in the face, neck and stomach, killing him.
Giving evidence at the inquest, Derrick Bird's eldest son Graeme Bird, 29, said the last time he saw his father, the day before the shootings, he "sat on the sofa with his head on his hands".
He said: "He was unsettled and would get out of the chair and have a walk about."
His father then gave him £500 cash for his now nine-month-old grandson.
The hearing is expected to last up to six weeks.