Carlisle welcomes returning soldiers from Afghanistan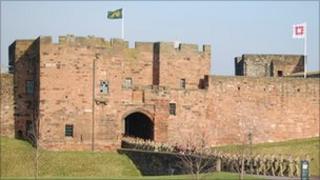 Hundreds of soldiers from the 1st Battalion, the Duke of Lancaster's Regiment have paraded through Carlisle.
The event celebrated the battalion's return from its recent tour of Afghanistan.
The parade had been planned for late last year but had to be postponed because of bad weather.
Maj Robbie Davies said the parade was "vitally important" to troops who were able to see at first hand the support given to them by the public.
The regiment, which regularly recruits in the city, returned from Helmand province last year having lost three men.
Maj Davies said there was disappointment when a planned parade had to be scrapped in December, when Cumbria was hit by severe weather.
'Positive thing'
He said: "These events are very important because it important that the boys see the feelings of the people at home.
"People seem genuinely pleased to see the soldiers on the street and this is a positive thing."
The parade has taken the soldiers from Carlisle Castle to the city's cathedral for a thanksgiving service.
The battalion will later take a salute in the city centre, with the parade ending outside the Sands centre.