New path opens after St Bees cliff collapse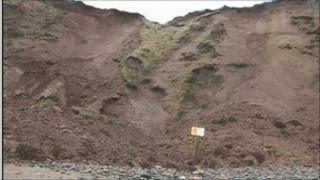 An alternative route has opened after a Cumbria coastal footpath was closed when it was damaged by a landslide.
A section of the coastal route between St Bees and Fleswick Bay was shut off after about 150ft (46m) of cliff face gave way on February 14.
A new fenced-off path, at a safe distance from the damaged route, has now opened a month after the landslide.
Cumbria County Council said the dangerous section of cliff had also been fenced off.
A council spokesman said: "A new fenced corridor has been created at a safe distance from the cliff edge.
"This is a popular path and we didn't underestimate how important it was to both protect the public from the landslip and get the route back open as soon as possible."