Bird's warning before Cumbria shootings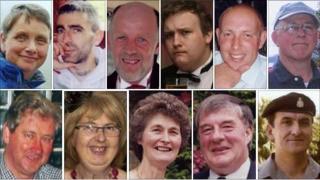 Killer Derrick Bird warned "they are going to get it big style", days before opening fire on fellow taxi drivers, an inquest heard.
Bird, a 52-year-old taxi driver, shot 12 people dead and injured a further 11 on 2 June last year.
Bird complained other drivers would "wind him up" and jump the taxi queue to take his fares.
He became the butt of practical jokes, had his tyres slashed and was drenched in coffee, the inquest heard.
He was also tricked into eating soap blocks used to disinfect toilets, the hearing was told.
John McDonald, a co-worker, spoke to Bird two days before the massacre, at the taxi rank in Whitehaven.
Mr McDonald said: "He said there were a few of the lads on the rank winding him up and he said, 'They are going to get it big style. You just watch, they are going to get it big style'."
The next day Bird said Darren Rewcastle, 43, had thrown coffee all over him at the rank, the inquest was told.
The following day, 2 June, after murdering his twin brother David and solicitor Kevin Commons, 60, he drove to the rank in Whitehaven.
There he called over Mr Rewcastle to his Citroen Picasso cab and shot him at point blank range.
He went on to shoot Donald Reid, Paul Wilson and Terence Kennedy - all taxi drivers.
Mr Kennedy survived but had to have a portion of his right lower arm amputated.
Robert Cullen told the hearing he had known Bird for a decade and said his friend suffered from low self confidence.
He said how Bird enjoyed holidays in Thailand with fellow taxi drivers, where he "went with women" and "paid for it".
In one incident in Thailand a trick was played on him, Mr Cullen said.
Bird was known to "raid the fridge" when he came home after a night out drinking, so friends had put soap toilet blocks in a bowl to fool him.
"He came in and crunched on a couple and he was not happy about that," Mr Cullen said. "He was in a bad mood over it."
Mr Cullen said Bird thought fellow cabbie Terry Kennedy was partly to blame for that incident.
He said Bird blamed Mr Rewcastle for pouring milk in the back of his cab and he then could not get rid of the smell in his car.
The witness also said both he and Bird were keen divers and members of Solway Sub Aqua Club, but Bird had been "ridiculed and laughed at" by some others at the club.
"He said he hated them at times, and a couple of occasions, when we had been drinking he did say, 'One of these days I would like to shoot the lot of them'."
Mr Cullen said Bird had twice been beaten up in 2007, having his teeth "kicked out" which further shook his confidence.
By early 2010 Bird was "depressed" about his elderly mother's ill health, by problems he had with the taxman and about the assaults.
"He was having a hard time of it," he added.
The hearing, at the Energus Centre, in Workington, is expected to last up to six weeks.