Cumbria shootings: Derrick Bird's twin left dead on floor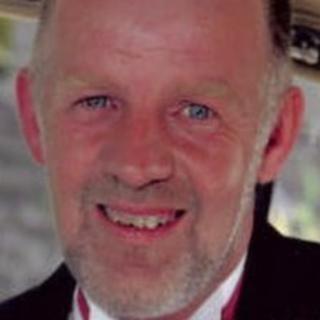 The inquest into the Cumbrian shootings has heard how the body of Derrick Bird's first victim, his twin brother David, was discovered.
David Bird's neighbour, Ron Pattison, described finding him slumped on the floor of his blood-stained bedroom on the morning of 2 June 2010.
The jury saw a video of the scene, showing bullet holes in the walls, and the door ripped off its hinges.
It had emerged earlier in the hearing that David Bird had been shot 11 times.
Mr Pattison said that Derrick Bird had visited his brother several times in the days before the shootings and David seemed frustrated by the visits.
The inquest, now in its fifth day, had earlier heard that Derrick Bird had been concerned that he was going to go to prison over unpaid tax.
He had also been "wound up" by fellow taxi-drivers at the Whitehaven rank, and had warned "they are going to get it big style".
'Just a kiss'
The hearing also heard evidence relating to solicitor Kevin Commons who was killed after Bird.
Kerrie Evans told the hearing that she knew Mr Commons "extremely well" and described their relationship at the time of his death as "intimate".
He sent her a final text message, timed at 1004 BST on 2 June , nine minutes before the first 999 call was made to report the shooting of Mr Commons, timed at 1013 BST.
"It was just a kiss," Miss Evans told the inquest.
She recalled a conversation the day before when David Bird had called at Mr Commons' farmhouse to escape Derrick's attention.
While there, David told of "endless" telephone calls from his brother, who repeatedly turned up at his house.
Mr Commons suggested David should take his brother to hospital.
David "smirked" and replied: "Maybe I should", Miss Evans said.
Susan Rooney, whose garden overlooked Mr Commons' driveway, told the inquest she saw part of the gun attack.
Mrs Rooney said she heard a shot and saw Mr Commons staggering back up his drive, pursued by another man, and she called 999 to report what she thought was an air-rifle incident.
'Blood running'
John Dunn, a neighbour, was alerted and went to the farmhouse to investigate.
He saw a body sprawled on the ground.
"I could see this person had a lot of blood coming from his head and it had been running down the drive towards me," he said.
The jury was shown photos and CCTV from the crime scene.
It showed Mr Commons' body lying on the ground from a distance. He had been shot in the shoulder and twice in the head.
They also heard from various people, mostly dog walkers, who saw Bird and his taxi near to Mr Commons' farmhouse on the morning of 2 June.
CCTV footage showed Bird turn down the single track access road to the property at 0514 BST. It did not return until 1010 BST.
Bird shot 12 people dead and injured a further 11 during a shooting spree across Cumbria on 2 June.
It is expected that the hearing, at the Energus Centre, in Workington, will last up to six weeks.