Talkin Tarn tree planting project under way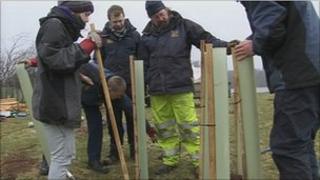 Work has begun to plant thousands of new trees at a Cumbrian beauty spot.
The project, at Talkin Tarn Country Park near Brampton, will see 3,000 trees planted over the course of the next few weeks.
Proposals are in place for a further 8,000 to be planted in the future, if increased funding can be won.
The trees have been funded by a £10,000 North Pennines Area of Outstanding Natural Beauty (AONB) grant.
Fiona Shipp, manager of Talkin Tarn Country Park, said: "Very soon we will have a massive new area of woodland.
"It's a very exciting time for the park and we've had a fantastic response to a call for volunteers to help us with the planting.
"We have been very lucky with the funding for this particular project. We also have a Woodlands Grants Scheme application pending, which we hope will give us another 8,000 trees next winter."
Carlisle Council, which oversees the site, highlighted land currently used for grazing for the trees.