'Alien' invader threatens Lake District waterways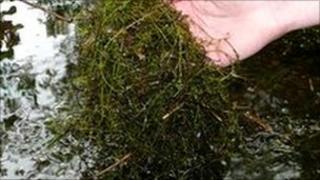 There are fears an "alien" invader is threatening wildlife in Cumbrian Lakes.
Crassula helsii, or Australian swamp stonecrop, has now become established in Bassenthwaite Lake, Coniston Water, Windermere, Grasmere, Rydal Water and Derwentwater.
The plant, which grows all year round, can be spread by footwear, fishing tackle, boats and trailers.
The Lake District National Park Authority is appealing to anglers, boat users and tourists to take precautions.
A leaflet campaign is advising them to make sure they do not pick up parts of the plant on boats or equipment and accidentally spread it.
Introduced from Tasmania in 1911 as an oxygenating plant, it grows rapidly into a large, dense mat of vegetation.