Lake District zip wire attraction plans submitted again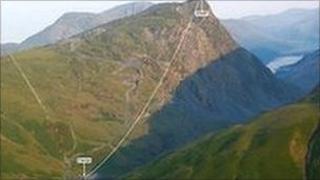 Plans to build a mile-long zip wire on a Lake District mountain are to be resubmitted as a tribute to a local businessman.
The project at Honister Slate Mine was proposed a year ago by Mark Weir but withdrawn for further work following objections over its siting.
Mr Weir was killed in a helicopter crash in March and his business is now pressing ahead with new plans.
If given the go-ahead it would be named the "Zip Weir" in his honour.
It would run from a concealed cliff face just below the summit of Fleetwich Pike and there would be a 1,000ft (300m) climb to reach the start site.
Friends of the Lake District had concerns with the original planning application because of the potential impact the wire would have on the landscape and the type and level of activity it would bring to the Honister valley.
'His dream'
The new proposals include a detour around certain areas and taking the approach route partially through the mine tunnels inside the mountain.
It would replicate a similar construction more than 80 years ago, called the Lancaster Aerial Flight.
A spokesman for Mr Weir's family said: "Since Mark died, many people have told us not to give up on the zip wire because they think it would be a tribute to him and they want to be the first down it.
"He would hate it if we gave up on his dream, which we know has excited so many local people and visitors to the mine.
"Mark's passion was for the Cumbrian community to benefit from this, as it has from the mine being reopened, with visitors coming to stay in the area."