Arms dump developer named by Cumbria councils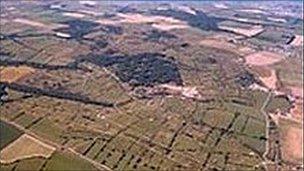 A consortium has been named as the preferred developer of the site of a former arms dump in Cumbria.
The 1,050 acre (425 hectare) Broughton Moor depot, near Maryport was bought by Cumbria County and Allderdale District councils for £1 in 2008.
The plan was to develop the brownfield site which had been derelict for years.
Two companies were shortlisted and Derwent Forest Developments, with plans for houses, holiday lodges and a science centre, was chosen.
The firm said its emphasis was on "sustainability".
Harry Dyke, chief executive at Allerdale Borough Council, said: "The redevelopment of the Derwent Forest site has the potential to make a significant improvement to the local environment, subject to the detail of the proposal and its implications for wildlife within and adjacent to the site, including protected species.
"After remediation it will provide employment, community use space and other commercial and leisure uses."
Jill Stannard, chief executive at Cumbria County Council, said: "This is as a unique opportunity.
"We've secured a long-term, sustainable use for Derwent Forest which we're confident will deliver real benefits to the local community for generations to come."
Related Internet Links
The BBC is not responsible for the content of external sites.