Officers go on beat in north Cumbria on bicycles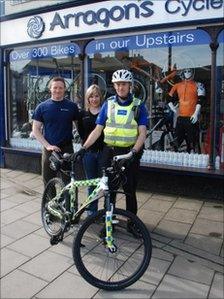 Police officers in north Cumbria will be using specially-adapted bicycles when they go out on the beat.
The 20 modified mountain bikes branded with the Cumbria force's livery will be used in Carlisle, Penrith, Appleby and Brampton.
The idea is they are more effective than cars in areas with passageways, pedestrian areas and parks.
It is hoped using the bikes will help officers tackle anti-social behaviour and criminal damage.
They will be used by officers who would usually be on foot patrol and have been adapted to carry equipment such as speed capture devices.
PCSO Tony Labram said: "Using a bike means I can gain quick access to areas not possible in a car, such as parks and passages, which is important when you're working in town centres or large residential areas.
"It also means I can cover my patch more quickly than if I were on foot, meaning I'm more accessible to the local community."
Related Internet Links
The BBC is not responsible for the content of external sites.