Rare juniper tree boost for Cumbria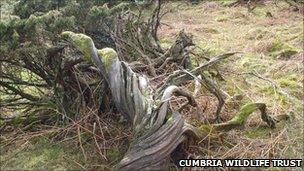 One of Cumbria's oldest plant species will be given a much-needed boost thanks to extra funding.
Juniper trees will be planted on Lake District uplands and existing juniper scrub will be maintained.
Cumbria Wildlife Trust has won £56,332 to support the project, which will see teams of volunteers out on the fells.
It is hoped they will halt the decline of juniper numbers over the next three years.
Juniper was one of the first plant species to colonise Cumbria after the glaciers of the ice age receded.
It is adapted to cold, harsh conditions and can survive without much in the way of soil nutrition.
These features make it ideally suited to life on the Lake District fells and it can be found even on some of the highest crags.
Over the centuries it has been put to a number of uses, such as an early form of barbed wire, charcoal and as a flavouring for gin.
The junipers offer important habitats for many species; 42 species of insect feed on it, as do moths such as the juniper carpet and juniper pug.
A number of common birds nest in its branches while the declining ring ouzel feeds up on its berries before embarking on its autumn migration.
However, juniper is in decline across the country, which means it has been earmarked in Cumbria for special protection.
It faces problems there too from heavy sheep grazing and an aging juniper population.
Over the next three years, teams of volunteers will survey the trees, maintain juniper scrub and plant new saplings.
Mike Douglas, from the trust, said: "The Uplands for Juniper project provides a great opportunity to assure the future of this rare species within the county."
The project has received £56,332 from SITA Trust - a funding body which supports projects which enhance communities and enrich nature.
Related Internet Links
The BBC is not responsible for the content of external sites.