Former Eddie Stobart owner's funeral held in Carlisle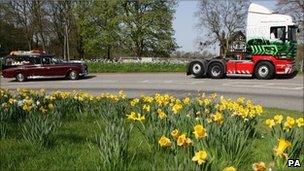 Mourners have gathered in Carlisle to bid farewell to the former head of the Eddie Stobart haulage giant.
Edward Stobart, 56, died on 31 March after suffering heart problems.
He took over his father's firm in 1976 and built it up into one of the most well-known haulage companies in the world.
About 200 people lined the streets around Carlisle Cathedral and three of the firm's distinctive green, white and red trucks were parked outside.
The service started at 1100 BST and was attended by about 500 family, friends and industry colleagues.
The ceremony was broadcast on a large screen outside the cathedral.
There was an area for floral tributes outside, including one looking like an Eddie Stobart truck.
Mr Stobart's father, Eddie, and his wife Nora were among the family at the ceremony.
Speaking before the service, Stobart Group deputy chief executive Richard Butcher described him as "a true legend of the haulage industry".
He said: "He will be remembered by a lot of people in the industry.
"I worked with him for a number of years and he was an absolute gentleman. A very generous, a very kind man. A very shy man in some respects.
"He demanded the best from everyone who worked with him, but he was loyal to those who worked with him throughout his time at the business."
Rebecca Ferguson, the X-Factor finalist from Liverpool, sang Amazing Grace at the service.
After the service, three Eddie Stobart trucks from the 1970s, 1980s and the present day led the hearse away to a private burial.
Mr Stobart, a father of six who lived in Warwickshire with his wife Mandy, is credited with transforming the small Cumbrian business started by his father which had just eight trucks and 12 employees when he took over.
By 2001, that had risen to 1,000 lorries and 2,000 staff operating from 27 sites.
Mr Stobart was managing director for more than 30 years.
The company even had a "fan club" which at its height attracted 25,000 members.
The Stobart brand also stretched to a children's cartoon character, a paint colour - Eddie Stobart green - and toy trucks.
Edward sold the business to his brother William and business partner Andrew Tinkler in 2004.
Related Internet Links
The BBC is not responsible for the content of external sites.