Dismay in Cumbria at quarrying tax fund end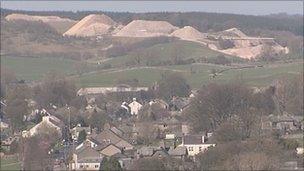 A scheme which paid out £2.5m to Cumbrian communities affected by quarrying has been scrapped.
The Aggregates Levy Sustainability Fund has ended because of the government's spending review.
The fund came from a tax on the quarrying industry to help mitigate the environmental impact of quarrying and help local communities.
People living in Shap in Cumbria, where there are two quarries, said they were disappointed.
Between 2002 and 2011, schemes across Cumbria received £2.5m from the fund.
A £20,000 grant was used to extend the clubhouse at Shap Bowling Club.
Club Secretary Tony Smith said: "It is terrible news really because we rely very much on local funders.
"Here in Shap we have quarries at both ends of the village. We have got the motorway but we still get lorries coming through the village on a regular basis.
"This is small recompense really for the hassle that the local villagers have to put up with."
The decision to cut the fund has also upset those who run quarries.
Geoff Storey, from Aggregate Industries, said it was disappointed in the decision.
He said: "It is galling that all of the aggregate levy now is being kept by the treasury and the public, local communities are missing out on funds which should be available to them."
A statement from the Department for Environment Food and Rural Affairs said: "In a very tight spending review, we had to look closely at where we could make best use of the available funds and were not able to continue funding the Aggregate Levy Sustainability Fund."
It said it remained committed to protecting natural heritage in other ways.
See more on this story from Sunday's Politics Show, North East and Cumbria on the iPlayer.
Related Internet Links
The BBC is not responsible for the content of external sites.