Llamas move fish to cooler waters in Lake District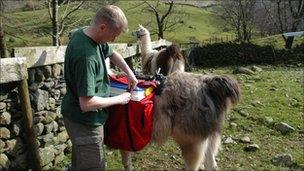 A rare species of fish has been moved to higher ground to try to protect it from rising water temperatures.
Llamas were used to transport the endangered vendace 500m up mountain paths to a tarn in the Lake District.
Vendace, the UK's rarest freshwater fish, normally live in a lake environment.
But the Environment Agency said the species needed to be protected from the warming effects of climate change and its impact on rivers and lakes.
This project aims to establish a vendace "refuge".
Derwentwater, Cumbria, is now thought to be the only site in England and Wales where the fish exist.
The Environment Agency said the 25,000 fish were transported by llamas because the mountain paths were inaccessible by car, and it helped reduce the carbon footprint.
The llamas, from local charity Llama Karma Kafe, transported the newly hatched fish to Sprinkling Tarn, near Seathwaite Fell.
Fisheries officers on foot then helped transfer the fish to the cool waters of the tarn.
Andy Gowans, Fisheries Technical Specialist for the Environment Agency, said: "By introducing these vendace into Sprinkling Tarn, where water temperatures will be lower, it will provide an additional element of safeguarding for this endangered species.
"The fish will be closely monitored, in the hope that a self-sustaining population will be established."
Environment Agency Chairman, Lord Chris Smith, said: "Climate change is the biggest environmental challenge facing the world today.
"In addition to the anticipated warming of lakes and rivers, we may also see an increase in the occurrence of extreme weather events such as floods, droughts and heatwaves.
"All of these could have an impact on much of the native wildlife in England, especially aquatic species such as the rare and specialised vendace, so we are taking action now to conserve the existing populations."
The Environment Agency said it was also keeping a close eye on species such as salmon and trout, which were particularly vulnerable to increasing temperatures.
Related Internet Links
The BBC is not responsible for the content of external sites.