Flood emergency grant cash boost in Cumbria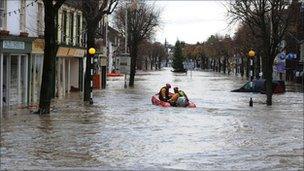 More than £30,000 is to be given to Cumbria's fire service and a mountain rescue team to help them deal with future flooding emergencies.
Cumbria Fire and Rescue Service will receive £21,358 from Defra, and Wasdale Mountain Rescue Team will get £12,135.
The funding will be used to train and equip firefighters and buy white water rescue equipment.
It is part of a £2.7m grant to improve flood emergency responses in England and Wales.
In November 2009 Cumbria was devastated by flooding caused by heavy rainfall.
Cockermouth was one of the worst-hit areas, with an estimated 1,400 people affected, and the town of Workington was effectively split in two when its main bridge collapsed.
A total of 16 organisations across England and Wales involved in flood rescue activities will receive grants totalling £823,720.
It is the third set of financial allocations from the scheme. The first batch of funding was announced in November 2010, worth £919,000, and the second in March 2011, worth £816,000.
Environment Minister Richard Benyon said: "In the event of a large-scale flood, it is important that we can call upon manpower and equipment from a wide range of emergency services and voluntary groups.
"Through this scheme we have already provided 35 grants to local flood rescue teams to improve their flood rescue capabilities."
Mike Gullen, Wasdale Mountain Rescue Team leader, said: "This money will benefit people in West Cumbria and further afield. We welcome this extra funding which will allow us to provide a better resource in terms of white water rescues."
Cumbria's Chief Fire Officer, Dominic Harrison, said: "Firefighters at a number of the county's retained fire stations are being trained and equipped as Water First Responders which will allow them to safely and effectively support our swift water rescue crews in dealing with severe flood incidents.
"The funding bid was made following lessons learnt from the widespread floods of 2009 and will enable the service to further reduce risk to firefighters and members of the community."
Related Internet Links
The BBC is not responsible for the content of external sites.