Full take-up for MMR jab in Barrow welcomed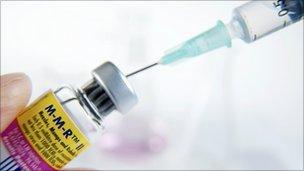 Health chiefs have welcomed the 100% take-up of the combined measles, mumps and rubella vaccine in part of Cumbria.
In February every two-year-old who qualified for the jab in the Barrow area was immunised, figures from Cumbria NHS have revealed.
In the same month, take-up was 97% in the South Lakeland, Allerdale, and areas, and 94% in Carlisle and Eden.
Dr Nigel Calvert, associate director of public health, described the Barrow figure as "particularly pleasing".
The vaccine is given in two doses, once at about 13 months of age, and a booster dose before the child starts school.
Dr Calvert said: "I am really pleased that so many local parents have made the decision to protect their children, but we can't be complacent.
"Measles, mumps and rubella are diseases that have serious complications. The MMR vaccine offers the best protection."
Related Internet Links
The BBC is not responsible for the content of external sites.