Cumbria red kite chicks survive winter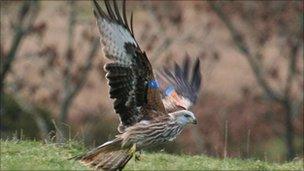 Wildlife experts said they were confident most of the red kites released in Cumbria in a reintroduction programme survived the harsh winter.
Thirty of the rare birds were released into Grizedale Forest by the Forestry Commission in August last year.
It is feared 10 have died, matching natural mortality rates, which is why so many of the birds were released.
Many of them are still living in Cumbria or neighbouring counties but some have flown into Scotland.
August's release was the first time red kites had been in Cumbria in 160 years.
The reintroduction programme will run over three years.
Forestry Commission wildlife ranger Iain Yoxall said: "The birds are doing pretty much exactly as we expected which is very encouraging.
"We are more confident that these birds will make it to adults now they have made it through a harsh winter.
"Sadly we lost a few birds but that is natural and why we have to release the numbers that we did."
The Grizedale birds have coloured tags on each wing.
Up to eight of the birds are thought to be living in and around the Grizedale and Rusland valleys and up to five in the Kirkby Moor area, near Ulverston.
Four have been seen by RSPB experts at feeding stations in Dumfries and Galloway.
One of the tagged birds has been tracked 120km (75 miles) north west into Scotland.
Related Internet Links
The BBC is not responsible for the content of external sites.