Lowther Castle's gardens open first time in 70 years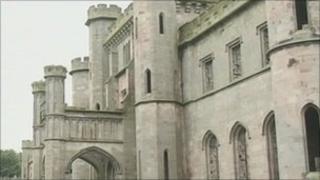 The gardens of a run-down gothic castle in Cumbria have opened to the public for the first time in 70 years.
More than £9m is being spent transforming Lowther Castle, near Penrith, into a tourist attraction.
Work is ongoing on the castle but its 20 overgrown gardens have been cut back and transformed.
It is hoped the castle, built in 1805, will attract 100,000 visitors a year. The gardens open to the public for the first from Friday.
The Lake District National Park Authority (LDNPA) is also carrying out building work to stabilise the castle building.
The Northwest Regional Development Agency awarded £7m, and a further £2m has come from the Northwest European Regional Development Fund.
The castle has been empty since the 1950s.