Cruise ship service for woman dropped into sea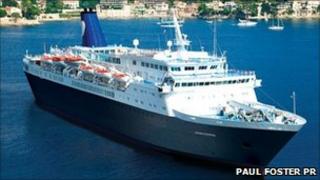 Prayers have been held on board a cruise liner a Cumbrian woman was travelling on when she was dropped into the sea off Norway before later dying.
Janet Richardson, 73, was taken ill on the Ocean Countess and, as paramedics tried to transfer her to the lifeboat, she fell into near-freezing water.
She was rescued and flown to a Carlisle hospital where she died on Thursday.
UK operator Cruise and Maritime Voyages confirmed a service for Mrs Richardson was being held on the ship on Sunday.
Mrs Richardson, from near Penrith, was in the sea for several minutes before being rescued.
She had been struck down with internal bleeding on the voyage from Hull to Norway. She had hoped to see the Northern Lights with her husband George, 78.
'Deeply shocked'
According to eyewitness reports, as the paramedics were moving her from the ship to the lifeboat, the boats moved apart and Mrs Richardson fell into the sea.
Chris Coates, marketing director of Cruise and Maritime Voyages, said: "The directors and staff of Cruise and Maritime Voyages are all deeply shocked by the news received a short while ago that Mrs Janet Richardson has passed away.
"All our thoughts and prayers are with the Richardson family at this sad time."
The investigation is being conducted by detectives from Salten Police District, based in Bodo, Norway.