Cumbria celebrates royal wedding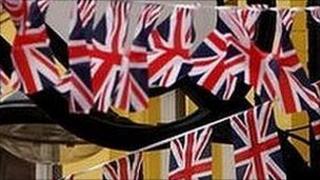 Cumbrians are hosting scores of events to mark the marriage of Prince William and Kate Middleton.
From street parties to flower festivals, wedding blessings to village fetes, the bunting is out in force across the county.
There are Cumbrian connections with the big day, including the bride's new coat of arms, which features a representation of Lake District fells.
People have also been busy producing memorabilia to mark the occasion.
Events are taking place in every corner of Cumbria; some organised by councils and attractions, others by communities.
Carlisle City Council is putting on a royal garden party on Friday and Saturday in the city centre, with a big screen and street entertainment.
There will also be a big screen up in Keswick Market Square with a food fayre and street party.
In Barrow they will be celebrating "Britishness" in the town centre by putting on a Punch and Judy show and a Royal Wedding trail.
Street parties
As well as the big official events, residents are holding their own celebrations for the big day.
There is a royal wedding fete and street party at the Oval Centre in Salterbeck in Workington and another at Sandylands Methodist Church in Kendal.
Tebay Church has a special wedding festival including a display of wedding dresses, the oldest from the days of Queen Victoria.
Schools are also getting involved: Cockermouth School will be serving special royal wedding dinners and Newlaithes Infants School in Carlisle is holding a street party.
Wedding blessings
Alongside the lighter side of the celebrations, Carlisle Cathedral is hoping the royal wedding will make people think about religious marriages.
It is holding a special service on Friday from 1230 to 1300 BST after which couples will be able to get their marriages blessed.
Local attractions are also marking the occasion - Holker Hall is putting up a big screen while Muncaster Castle is hosting a Royal Wedding Flower Festival.
BBC Radio Cumbria will cover the Royal Wedding day from across the county.