Carlisle Youth Zone is unveiled for young Cumbrians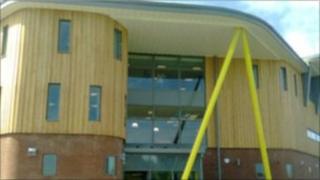 A £5m centre for young people in north Cumbria has been unveiled in Carlisle.
The Carlisle Youth Zone will cost £1m a year to run and the directors have so far secured £1.9m towards its first three years of costs.
It will be open to specially invited groups throughout May and will fully open to all members in June.
Young people aged between eight and 21 will be able to apply for membership of the Victoria Place site which costs £5 a year, then 50p per visit.
When it fully opens in June, it will be open every evening, weekend and school holiday.
It is the first of five youth zones being built in the north west by the youth charity OnSide - others are being built in Wigan, Blackburn, Oldham and Manchester.
The Carlisle Youth Zone takes its inspiration from the Bolton Lads and Girls Club which moved to a new, modern facility in 2002.
Jerry Glover is the former chief executive of the Bolton club and helped set up the Carlisle centre.
Speaking on BBC Radio Cumbria's Breakfast Show he said it was vital to invest in young people.
"We just simply have to invest in young people. Young people are the future," he said.
"If we prefer to see kids on the streets then let's stop investing. We've got to build brilliant places for them to go."