Rose garden in Workington to remember Pc Bill Barker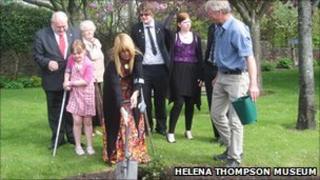 A rose garden has been planted in Workington to remember Pc Bill Barker, who died in the Cumbrian floods of November 2009.
It has been created at the town's Helena Thompson Museum using roses specially cultivated and named after the policeman.
Twenty Bill Barker roses have been planted in the grounds of the museum - the first by Pc Barker's widow, Hazel.
Another 20 are being sent to the town's police station.
Pc Bill Barker, 44, fell into the River Derwent when the A597 bridge was destroyed by floods in Workington.
The father of four, who had been an officer with the Cumbrian force for 25 years, was directing motorists off the bridge when the force of floodwater caused the collapse.
He was described by Craig Mackey, the Chief Constable of Cumbria Police, as "a hero who died saving lives".
The idea of the Bill Barker Rose was the brainchild of John Cook, Lord of the Manor of Workington, who hired a specialist in Chester to create and name the rose.
Some of the roses have been sent to Downing Street and planted in the Number 10 garden.
Mr Cook hopes Prince Charles will come to see the roses during one of his visits to Cumbria.