Road closure warning around Penrith New Squares site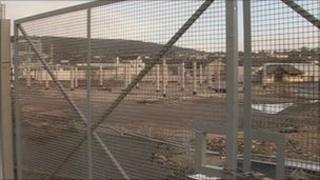 A council has warned of lengthy road closures during the construction of a stalled development project in a Cumbrian town centre.
Eden Council said some roads around the Penrith New Squares site would be closed for 32-36 weeks.
The £77m New Squares scheme in Penrith hit problems in 2008 when the recession led its Australian backers to pull out.
In 2010, the council backed scaled-down plans for a Sainsbury's store, offices, restaurants and affordable housing.
The housing construction has begun and enabling work is under way to prepare for the building of the supermarket.
Would be maintained
Eden Council said Princes Street would be closed for 36 weeks and Southend Road for 32 weeks, as from the week starting on 25 April.
However access for pedestrians and emergency vehicles would be maintained and all businesses on Princes Street and Southend Road would be open as usual.
Sainsbury's is distributing 10,000 postcards to properties in Penrith who may be affected by the road closures.
The store and car park are planned to open in April 2012.