Showman's 100-mile journey recreated in Cumbria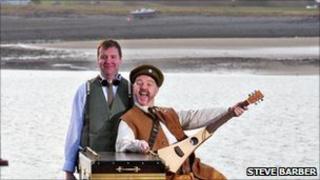 Inspired by the travels of a world-famous puppeteer, two men are setting off on a 100-mile journey, performing to anyone they meet.
The trip is based on the travels of showman Walter Wilkinson.
Gary Bridgens and Phill Gregg will take three weeks to complete their tour of south Cumbria, performing a specially-created show called Vagabonding.
Like Wilkinson, Mr Bridgens and Mr Gregg will travel with a small cart that doubles as a puppet booth.
Wilkinson visited Cumbria in the early 1930s, during what he described as the wettest summer for 40 years. He wrote travelogues of his experiences, which became a series of popular books.
The latest journey starts on Piel Island and visits many south Cumbrian villages and towns before ending in Barrow on 22 May.
Mr Bridgens said: "As performers, we've long had a fascination with the journeys of Walter Wilkinson and it was something we wanted to do ourselves."
The men are hoping that they can meet some of the people who saw Wilkinson's shows all those years ago, hear some anecdotes about his visit to the area and maybe even unearth one or two photos of the performer.
In their cart they will carry a collection of puppets, props and instruments as well as a camera to help record their journey on social media web sites including Facebook and Twitter.
Vagabonding is part of the Lakes Alive series of events in Cumbria.