Cumbrian couple thank village with wedding invite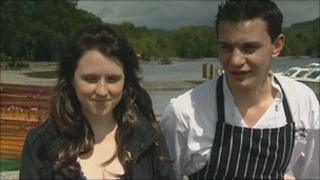 Residents of a Cumbrian village have rallied round to help a young couple set up home.
Following the purchase of a property in Broughton in Furness, Stephen Holland and Carly-Jade Wilkes were struggling to furnish it.
They placed an advert in the window of the local Post Office asking for help, and donations of furniture, electrical goods and carpets were soon offered.
As a thank-you, all the local residents have been invited to their wedding.
Mr Holland and his bride-to-be Miss Wilkes, who are both 23, have been together five years.
Nineteen local girls, aged between three and 13, will be bridesmaids at the wedding.
'Fantastic spirit'
Also taking part in the festivities will be Miss Wilkes's sheepdog, Archie. He was found dumped in the village as a pup two years ago.
Mother of the bride Dianne Bath, who owns the local post office, said: "This is such a fantastic community and it is the spirit of people that live here that drive you on."
Miss Wilkes and Mr Holland are to be married at St Mary's Church in the village at 1400 BST on Sunday.
The bells of the church will be rung by local people including postman Paul Thompson.
Flowers picked from local gardens will decorate the church.
The wedding reception, for 300 people, will take the form of a street party in the Market Square, outside the couple's house.