Deal for Northside Bridge replacement in Workington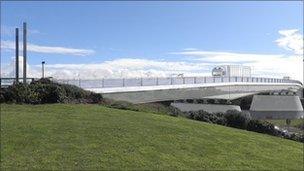 Council bosses in Cumbria have agreed to appoint a contractor to build a new river crossing destroyed in the floods of November 2009.
Workington's Northside bridge collapsed into the swollen River Derwent, killing Pc Bill Barker who was on the bridge diverting traffic.
Cumbria County Council said a deal with landowners had been finalised, allowing the project to go ahead.
The new crossing should be completed by May 2012.
After the collapse, the Army erected a temporary footbridge, but that was taken down earlier this year.
Tony Markley, Cumbria County Council's cabinet member for highways and economic development, said: "We have had very constructive talks with the final party needed to secure council ownership of the land where the bridge will be built.
"I'm delighted that we're now in a position to press ahead with awarding the contract and we will make an announcement on who the contractor is as soon as the contract has been confirmed.
"This is a huge step forward for Workington and people can now start to get excited about the prospect of getting a new bridge for the town next year."
Related Internet Links
The BBC is not responsible for the content of external sites.