More pubs open during Appleby Horse Fair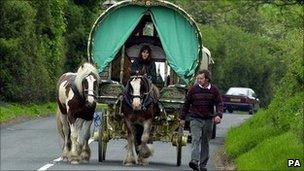 More pubs will open for the Appleby Horse Fair, after an official report into the 2010 gathering found closures had led to overcrowding.
Thousands of people are due to attend the annual event, one of Europe's largest gatherings of Gypsies and travellers, from 2 to 8 June.
Last year seven out of the 10 local pubs closed.
However, following discussions between the authorities and landlords, four more will now be open for business.
People will not be permitted to drink any alcohol on the streets, outside of designated drinking areas.
Bill Lloyd, traveller representative on the Appleby Horse Multi Agency Strategic Co-ordinating Group (MASCG), said: "Many of the difficulties of last year's fair were caused by overcrowding in the three pubs that were open, and so I welcome the serious efforts made by the police and Eden District Council to address some of those licensing problems for 2011.
"It is clear evidence of good will on all sides that we can sit down together and try to make it work for everyone, and we are grateful to the Licensing Sub-Committee and the publicans for sorting it out."
It is anticipated that more people will attend than previous years, due to interest raised by the Channel 4 series My Big Fat Gypsy Wedding.
Related Internet Links
The BBC is not responsible for the content of external sites.