Betty Brown death investigation uncovers new leads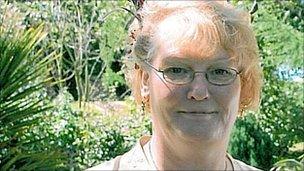 Officers investigating the death of an Edinburgh woman whose remains were found in woods in Cumbria have said they have uncovered new leads.
Elizabeth "Betty" Brown, 56, was last seen alive on 28 May last year on a bus on Nicholson Street in Edinburgh.
On Friday, Cumbria Police stopped more than 300 motorists on the A6071 near where she was found, between Longtown and Gretna on 18 January.
Statements taken from four potential witnesses are now being followed up.
Det Ch Insp Jeff Ashton, who is leading the investigation, said: "We conducted a successful appeal for information on the BBC Crimewatch programme last week, and wanted to follow this by specifically targeting people who may have seen Betty in the Longtown area.
"We stopped in excess of 300 vehicles and took four statements from potential witnesses, which we are now following up.
"This is an excellent result when you consider it has been a year since Betty was last seen, but we were always hopeful that we stood a reasonable chance of finding someone who may have seen her in the Longtown area, and the best way of finding that person was by stop-checking motorists.
"We will now follow these new leads in the hope that we can find answers for Betty's family."
Related Internet Links
The BBC is not responsible for the content of external sites.