Appleby Horse Fair to hold daily forum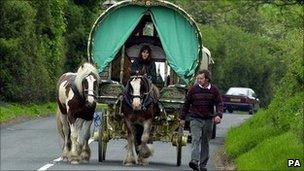 People have begun arriving at one of Europe's largest gatherings of Gypsies and travellers.
The annual Appleby Horse Fair attracts thousands of visitors to the Cumbrian market town.
Organisers are holding a daily forum so members of the travelling community and local residents can highlight any issues which might have arisen.
The gates have now opened at the main fair campsite, and the event will run until 8 June.
The new forum or "Community Advisory Group" has been set up by police working as part of the Multi-Agency Strategic Coordination Group (MASCG), with a meeting every evening.
Assistant Chief Constable Jerry Graham, in charge of the policing of the fair, said: "Our top priority during Appleby Fair is making sure that it is as safe and enjoyable as possible for everybody.
"This means that we have the difficult job of balancing the needs of local communities, who have their neighbourhood temporarily transformed, and Gypsies and travellers who travel far and wide to honour the ancient traditions of their family event.
"After listening to feedback from last year, we have decided to personally invite key members from both local settled communities and the different Gypsy and traveller sites in Appleby to a daily forum.
"Here, they will be given the opportunity to ask questions, highlight things that are working well or discuss any issues that they, or their neighbours, may have."
It is anticipated that more people will attend the fair than previous years, due to interest raised by the Channel 4 series My Big Fat Gypsy Wedding.
Related Internet Links
The BBC is not responsible for the content of external sites.