David Cameron backs Alice Pyne's bone marrow donor aim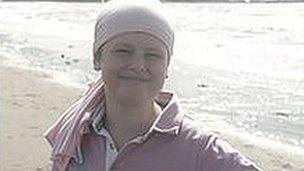 Prime Minister David Cameron has taken up the challenge of a Cumbrian teenager with terminal cancer who wants to boost the number of bone marrow donors.
Alice Pyne, 15, from Ulverston, has Hodgkin's Lymphoma and has created a so-called "bucket list" of things she wants to achieve.
Top is her aim to persuade everyone in the UK to sign up to a donor programme.
Mr Cameron's pledge came in the Commons after Barrow Labour MP John Woodcock highlighted the youngster's ambitions.
Alice, who lives with younger sister Milly and parents Vicky and Simon, also wants to meet Take That, swim with sharks and visit Cadbury World.
Mr Woodcock asked Mr Cameron during Prime Minister's Questions whether he could help Alice achieve her aim.
He said: "At the top of Alice's list is a call to make everyone sign up to be a bone marrow donor.
"So will he [Mr Cameron] work with the Leader of the Opposition and me to address why too few people are currently on this life-saving register."
In response Mr Cameron said: "I will certainly do that and I am very sorry to hear about the situation facing Alice and what she is going through.
"Our thoughts go out to her and her parents. She sounds like a very brave and very admirable person.
"We do want to get as many people as possible on to the bone marrow register and I'm sure the Leader of the Opposition and I can discuss this."
Alice was diagnosed with cancer three years ago and has undergone extensive chemotherapy and radiotherapy treatments.
She also received a stem cell transplant where her own treated cells were used, but this was not effective.
Last year more than 1,000 people signed up to see if they could donate bone marrow to her, but in October a scan showed there were no more treatment options.
In her online blog the teenager reveals: "I'm 15 and I have terminal cancer. I've created a bucket list because there are so many things I still want to do in my life .
"I'm not expecting to do everything on it. Some of the things are just not going to happen because I can't even leave the country now.
"So, I thought it would be fun to have my list online and to tick things off and do a little update on everything I do."
Related Internet Links
The BBC is not responsible for the content of external sites.