Rare white-faced dragonfly returns to Cumbrian reserve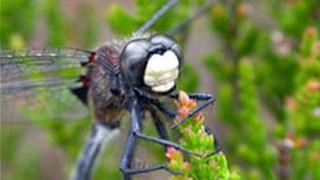 Rare dragonflies have hatched at a Cumbrian nature reserve for the first time in more than 10 years.
The larvae of white-faced darter dragonflies were discovered at Cumbria Wildlife Trust's Foulshaw Moss nature reserve near Kendal.
The insects were reintroduced as part of a 13-year plan to re-establish the moss habitat they require.
Experts now hope the insects - found at just 10 sites in England - will eventually become self-sustaining.
The project was established by the British Dragonfly Society and Cumbria Wildlife Trust with funding from Natural England.
Aquatic larvae of the white-faced darter were collected from a donor site and introduced to pools at Foulshaw Moss in 2010.
Bog pools
The species was lost to the lowland raised bog site - part of the Witherslack Mosses special area of conservation (SAC) - because of forest planting and drainage.
David Smallshire, convener of the British Dragonfly Society's conservation group, said: "The white-faced darter has been lost from half of its English sites in the last 50 years, so this initiative is an exciting opportunity to reverse that trend."
The white-faced darter is small with a characteristic white face that lends it its name.
The male is mainly black with scarlet and orange markings. Females are also predominantly black but have pale yellow markings.
It likes to make its home in lowland peat bogs where it can find rafts of moss at the edges of bog pools in which to lay its eggs.
The larvae are aquatic and spend two or three years in the moss living off other aquatic invertebrates.