Cancer girl Alice Pyne wish list boosts charity cash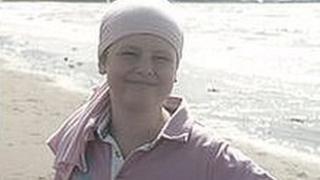 An online "bucket list" created by a Cumbrian girl with terminal cancer has inspired pledges of more than £30,000 for a fundraising charity run.
Alice Pyne, 15, from Ulverston, has Hodgkin's Lymphoma and has created a wish list of things she wants to achieve.
Her sister Milly, 12, took part in a Race For Life event in Barrow on Sunday, which attracted huge donations.
Alice said in her blog that the amount raised had made her "very happy."
Last week Alice described how she had been fighting cancer for the last four years and listed a number of thing she wanted to achieve.
Among them was to get everyone to sign up as a bone marrow donor, an aspiration which was backed by Prime Minister David Cameron in the Commons.
'Very grateful'
Her sister Milly's target for the Barrow event was £1,000, but when people viewed her blog she was flooded with donations.
Alice wrote: "OMG £30,000 - you can't know how happy that's made me, I'm crying, mum is crying, we love you all, thank you."
A statement from her sister said: "We all think that we can't get cancer, but we can and we do.
"I'm very grateful for all sponsorship and it's so lovely to see donations from people who don't know me but have followed Alice's story."
When Alice was diagnosed with cancer she underwent extensive chemotherapy and radiotherapy treatments.
She also received a stem cell transplant where her own treated cells were used, but this was not effective.
Last year more than 1,000 people signed up to see if they could donate bone marrow to her, but in October a scan showed there were no more treatment options.