Opinions on organisation of Appleby Horse Fair wanted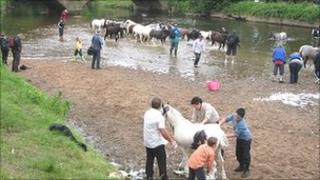 Organisers of the Appleby Horse Fair want feedback from locals and travellers on this year's event.
Last weekend's event attracted 50,000 visitors - an increase of 25% and Cumbria Police said there had been fewer arrests, only 48.
Now Cumbria County Council wants to hear the views of locals and travellers and has organised drop-in sessions.
The first meeting is on Tuesday at Sedbergh People's Hall at 1700 BST.
A council spokesman said: "The feedback process following the 2011 Appleby Horse Fair is well under way and a series of meetings have been organised as an opportunity for local people to report their experience of how the arrangements worked this year."
This year the RSPCA said that there had been a reduction in the number of verbal warnings its 31 officers had issued.