Great North Swim to bring thousands to Windermere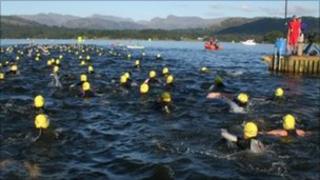 Thousands of swimmers are expected to head to Windermere this weekend for the 2011 Great North Swim.
The event was cancelled in September 2010 after potentially toxic algae was discovered in the water by the Environment Agency.
In an effort to avoid a repeat, the 2011 event has been scheduled for earlier in the year.
Organisers are expecting about 10,000 swimmers to participate in the three-day event.
This year a number of open water swimming distances have been introduced, including 0.5 mile (0.8 km), 1 mile (1.6km) and 2 mile (3.2 km).
Wet suits are compulsory for the swimmers to help buoyancy and warmth. The water temperature is expected to be about 16C.
A number of elite swimmers will also be taking part, including two of Britain's top swimmers, Dave Carry and Tom Allen.
The elite women's race brings together Cassie Patten, from England, and Isabelle Haerle, from Germany.
Patten was a bronze medallist in the 10k open water event at the Beijing Olympics.
Many of the swimmers are raising money for charity.
The first swimmers take to the water later on Friday.