Carlisle's Tullie House Museum to showcase Roman helmet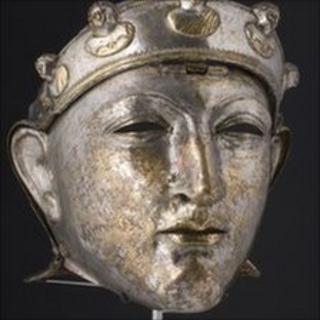 A rare Roman artefact is to go on display in a new £1.4m gallery in a Cumbrian museum.
The Roman Frontier Gallery at Tullie House Museum and Art Gallery in Carlisle opens on Saturday.
One of the highlights will be the Nijmegen Helmet, on loan from Museum Het Valkof in The Netherlands.
It of the same calibre and style as the Crosby Garrett helmet, which Tullie House was unable to secure at auction last year despite great public support.
The Nijmegen Helmet is described as exceptional, because it retains some of its silver and gilt decoration.
Very few Roman Cavalry Helmets existed as they were worn only by members of the Elite Cavalry when on parade.
This is the first time it has been on display in the UK, and only the second time it has been shown outside The Netherlands.
Hilary Wade, Director of Tullie House Museum and Art Gallery, said: "We are thrilled to be able to show this rare Roman Cavalry Helmet, and to be displaying this stunning object for the first time in the UK in our new Roman Frontier Gallery.
"We were disappointed not to be able to acquire the Crosby Garrett helmet last year, but are pleased to be able to offer the chance for our visitors to see the beautiful Nijmegen Helmet for the next six months."
The Crosby Garrett helmet was bought by an anonymous phone bidder for £2m at auction in October last year.