Peat bog depths in Cumbria measured in CO2 survey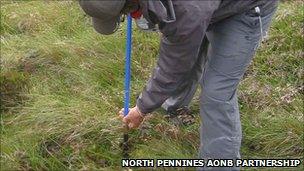 Survey work is taking place to calculate how much carbon dioxide is stored within peatland in Cumbria.
An area in the north of the county is part of a test zone where workers are trying to stop peat erosion.
It is believed that dried peat releases carbon dioxide into the atmosphere, one of the greenhouse gases responsible for climate change.
The survey should give information about the role restored peatlands play in reducing the release of the gas.
Over the past four years, the North Pennines Area of Outstanding Natural Beauty (AONB) Partnership has blocked moorland drains with peat dams to try to restore important blanket bog habitats in the North Pennines, and prevent the erosion of the peat.
Paul Leadbitter, Peatscapes project manager, said: "Peat depth is measured by pushing a depth rod into the bog at pre-determined positions.
"The rod is pushed down until the bedrock is hit, the depth is then measured and a GPS unit is used to take [a] location reading."
According to Natural England, English peatlands are estimated to contain about 584 million tonnes of carbon, based on the limited information available on peat depth and quality.
Members of the public are invited to help collect peat depth data at a free event at the Warcop Military Training Area, Cumbria on Sunday, 24 July 2011.
Related Internet Links
The BBC is not responsible for the content of external sites.