Owl leaves imprint on Kendal woman's window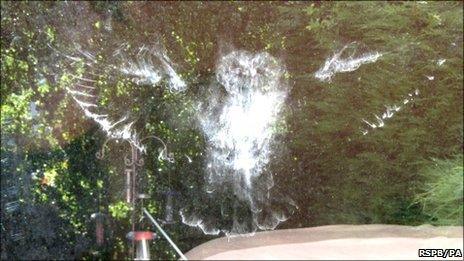 A woman returned to her Cumbrian home to find a near perfect imprint of an owl on her window.
The bird had apparently crashed into the window of Sally Arnold's Kendal home, leaving the bizarre image - complete with eyes, beak and feathers.
Experts said the silhouette was left by the bird's "powder down" - a substance protecting growing feathers.
Mrs Arnold said she could find no sign of the owl, so assumed it had flown off without serious injury.
She said: "Our first concern was for the welfare of what we suspected was an owl and we opened up the window to check if it was still around.
"Fortunately, there was no sign of the bird and we can only assume that it had flown away probably suffering from a headache."
Experts from the Royal Society for the Protection of Birds (RSPB) confirmed the bird was most likely a tawny owl because of its size and shape and the fact that they appear in gardens more regularly than others.
Val Osborne, head of the RSPB's wildlife inquiries team, said: "We don't very often see an imprint of a bird that's flown into a window that's this clear and where it's pretty obvious exactly what kind of bird it is.
"This would have been very uncomfortable for the bird but thankfully it looks like it survived as Mr and Mrs Arnold couldn't find it anywhere close by. Sadly, many birds aren't so lucky."
Birds often collide with windows or start to attack them, especially at this time of year with so many young birds around, the RSPB said.
Related Internet Links
The BBC is not responsible for the content of external sites.