Cancer girl Alice Pyne meets PM David Cameron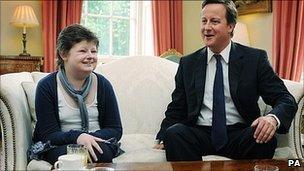 A Cumbrian teenager with terminal cancer has met with Prime Minister David Cameron to highlight her campaign for more bone marrow donors.
Alice Pyne, 15, from Ulverston, has Hodgkin's Lymphoma and created a wish list of things she wants to achieve.
Among them was a hope that everyone in the UK would sign up as a bone marrow donor, an aspiration which Mr Cameron praised in the House of Commons.
The youngster said she was "amazed" by the reaction to her appeal.
Mr Cameron said he had been honoured to meet the teenager, whose online "bucket list" has proved an internet sensation.
She also met with Labour leader Ed Miliband and was accompanied her parents, sister and Barrow Labour MP John Woodcock.
Alice said: "It has been an amazing day - David Cameron and Ed Miliband were both really keen to do more to raise the profile of this campaign.
"I was nervous before both meetings but they were both friendly and said they were determined to help get more bone marrow donors signed up.
"Of all the amazing things I have ticked off my bucket list, this is the one I am most proud of.
"If the prime minister and Ed Miliband can act, we really can save lives."
When Alice was diagnosed with cancer she underwent extensive chemotherapy and radiotherapy treatments.
She also received a stem cell transplant where her own treated cells were used, but this was not effective.
Last year more than 1,000 people signed up to see if they could donate bone marrow to her, but in October a scan showed there were no more treatment options.
Related Internet Links
The BBC is not responsible for the content of external sites.