Repaired Arnside viaduct 'to cut travel times'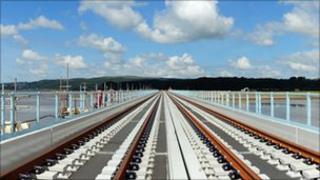 Rail chiefs hope that a repaired 155-year-old west Cumbria viaduct will help reduce journey times for passengers.
The Arnside viaduct which runs to Grange-over-Sands, has just reopened after being closed for 16 weeks for repairs.
More than £10m has been spent on a structural upgrade including replacing the whole of the deck.
Network Rail said the 30mph speed limit would increase to 60mph in the New Year to help reduce journey times.
Jo Kaye, Network Rail's route director, said: "The first thing regular passengers will notice is how quiet the ride is over the viaduct compared with before.
"We have taken away the old jointed track and replaced it with continuous rails.
"Not only is this quieter but it is also makes the ride over the viaduct a lot smoother.
"In due course we will be doubling the speed of trains over the viaduct which could lead to reduced journey times in future timetables."