Hadrian's Wall Heritage seeks £2m investor for new visitor centre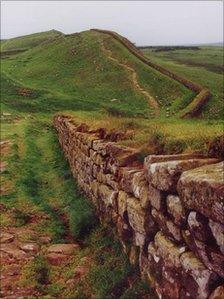 Hadrian's Wall Heritage is looking for an investor with a spare £2m to help create a new visitor centre in Bowness-on-Solway in Cumbria.
The company wants to build the centre, including holiday accommodation, at Bowness House Farm, with the help of a private sector development partner.
The site is at the end of the 84-mile (135km) Hadrian's Wall trail which was walked by 10,600 people last year.
The investors will lead the project, which is expected to cost £1m to £2m.
Trevor Atkinson, from Hadrian's Wall Heritage, said: "We have been working with the owners of Bowness House Farm and, following the completion of a detailed feasibility study, we can now move ahead with the project.
"It's important that local people continue to be involved in the project and we will be arranging a public meeting in the autumn to discuss the current proposals and future plans with anyone who is interested in the project."
The development would have a cafe, farm shop, a gallery or museum, and holiday accommodation to provide for the needs of trail walkers, cyclists and other visitors to the area.
It would also improve local community facilities and, in particular, car parking in the centre of Bowness-on-Solway.
The development site includes a Grade II listed farmhouse which was built in the mid 18th century.
Architect for the scheme, Alastair McGregor, said: "This is an exciting opportunity to provide a visitor centre with improved community facilities in the centre of Bowness-on-Solway.
"The development will be designed in order to enhance the qualities of the existing buildings and be in keeping with the character of the surrounding village."
Related Internet Links
The BBC is not responsible for the content of external sites.