MPs to climb Blencathra in the Lake District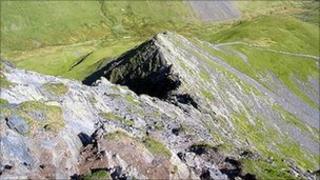 A group of MPs is set to join climbers on the fells in the Lake District to raise awareness of the importance of mountaineering.
Local MPs Rory Stewart and Jamie Reed will be among those walking up Blencathra and along Sharp Edge.
The group will be led by renowned mountaineer Sir Chris Bonington and several other keen fell climbers.
The walk has been organised by the British Mountaineering Council to raise awareness of mountain landscapes.
The council wants to highlight the contribution that mountaineering makes to local economies, especially the impact on tourism on rural areas like the Lake District.
Dave Turnbull, from the BMC, said: "We are delighted with the positive response from Parliamentarians who will be able to hear from the climbing community about the importance of mountain-related pursuits to the community as a whole."
They will also be taking the opportunity to discuss key issues with the MPs, including how environmental regulations may be affected by the Red Tape Challenge and also the views of its membership on protecting public forests.