Plan to cut risk to flood-hit Cockermouth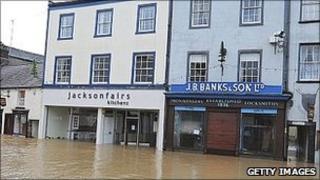 People living in a Cumbrian town badly hit by flooding two years ago are being given the chance to look at plans to prevent it happening again.
About 900 properties in Cockermouth were affected by flooding in November 2009.
The Environment Agency has been drawing up plans to cut the flooding risk to 360 homes and 55 businesses from the Rivers Derwent and Coker.
An exhibition in November will also show designs for the proposed scheme.
The exhibition will be held in a shop on Main Street on 11 November.
It is being hosted by the Environment Agency and Cockermouth Flood Action Group.
Environment Agency project manager Keith Roddy said: "It is really important we work with the community on our plans to reduce flood risk to the town to address any issues and concerns before moving forward with our proposals."