Whitehaven nursery reopens after being destroyed by high winds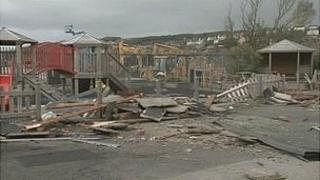 A Whitehaven nursery destroyed by high winds is to reopen in new premises after its roof was torn off.
Ten youngsters and four members of staff were in the Tamalder Childcare Centre when the freak gust struck on 17 October.
Now, a week since it was destroyed, they are hoping to reopen at a new home in the Children's Centre at Valley Primary School, Whinlatter Road.
Manager Clare Jackson said they hoped to "make good use" of the new space.
Ofsted will visit the new premises to check its safety on Monday and if they are given the green light, they hope to reopen on Tuesday.
Debris still remains in the playground at Tamalder, which they hope to reopen in about three months.