Cumbria hospitals health boss hits back at safety claim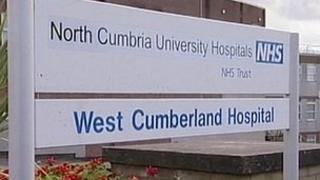 A health boss in Cumbria has branded claims that a cash crisis is putting patients' safety at risk as "nonsense".
In a recent leaked email, Neil Goodwin, chief executive of the North Cumbria University Hospitals Trust, said the financial situation was worsening.
It proposed measures including ward closures at Whitehaven and Carlisle hospitals to try to claw back £1.3m.
The situation has prompted criticism from organisations including the Royal College of Nursing (RCN).
Glenn Turp said, from the RCN, said: "We know from our members that with the pressures that they are under, the lack of staffing, and the inappropriate skill mix, patients are at risk in this hospital today and have been for some time.
"We want the trust to be honest about that."
But Mr Goodwin said this was "nonsense".
He added: "I think they've got to produce the evidence to support these claims. I find them irritating and vexatious.
"I believe this hospital provides good quality, safe, patient care. We meet all our our performance targets.
"The only significant problem we have is financial management, everything else is absolutely fine."