Awareness of mental health highlighted in computer game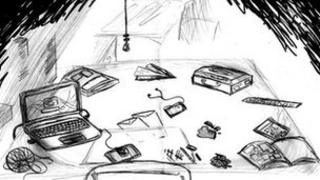 Three pupils from Cumbria have designed a computer game to raise awareness of mental health conditions.
Called Shaded, the game introduces players to characters with mental health problems. The boys worked on the project for about three months.
The pupils from Settlebeck School in Sedbergh all have Asperger's syndrome.
Currently just a concept, the idea has reached the top ten shortlist of the BAFTA Young Game Designers competition.
Finlay Miles, 13, Matty Goad, 16, and Reuben Kane, 14, designed the game in which the player is "Naked Edgar", a discarded sketch thrown away by his creator, a graphic designer.
Finlay, the author, said: "We were inspired to create this game because we all have social disorders and wanted to make people think about them - it was a bit self indulgent, but it became a really fun experience."
The game features characters such as Bi-Polar Bear, the Screamer, who is frightened of everything, Manic Panda, SAD Bat, Bulimic Dog and OCD Squirrel.
Artist Matty said: "I was sitting there doodling and daydreaming and suddenly I started to draw the characters. I showed them to Finn and he really liked them - so it all came together.
"I am really surprised we have done so well. It all happened really quickly, one minute I was drawing my little figures and the next we were in the BAFTA top ten."
The winning team will be given the opportunity to spend a week working with professional game developers at Bright Light, the EA Games studio in Guildford and a playable version of the winning game will be developed at Abertay University in Scotland.
Julia McDonald, from Settlebeck School, said: "They all have Asperger's syndrome and related disabilities, which impact on their ability to focus and interact and yet they have come together and created a fantastic game idea."
The winners will be announced at the BAFTA Children's Awards on 27 November.