Andrew Lansley 'will not intervene in Cumbria care crisis'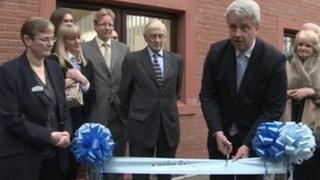 Health secretary Andrew Lansley says it is not his job to intervene over claims hospitals in north Cumbria are on the verge of a care crisis.
Mr Lansley made his comments in Carlisle as he opened a counselling centre at Eden Valley Hospice.
He was asked about senior doctors' fears patients in Carlisle and Whitehaven are at risk from staff shortages and the threat of more cuts.
North Cumbria Hospitals NHS University Trust says patients are not at risk.
However, staff at Carlisle's Cumberland Infirmary and the West Cumberland Hospital in Whitehaven have raised a number of concerns.
'Close to breakdown'
These include claims demands on A&E services are too great for the number of staff, and workers are "cracking up" under the pressure.
Consultant orthopaedic surgeon, Guy Broome, described the situation as "close to a breakdown".
Neil Goodwin, chief executive of the hospital trust, said it was investigating such claims, and insisted that patients were not at risk.
Mr Lansley did not deny there might be problems but said there was a system in place to tackle them.
He said: The strategic health authority has a responsibility to the primary care trust to ensure that their patients referred to the Cumberland Infirmary, or indeed wherever they go, that they are receiving high quality services.
"If they are not to flag them up, to take action themselves, as the commissioners or indeed if they are concerned about quality to take that up with the Care Quality Commission."