Festive walk for Lake District fells weather assessor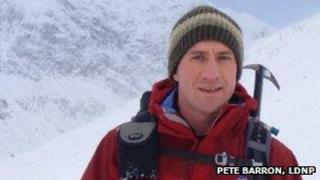 For one Cumbrian resident Christmas Day will begin with a walk to the top of one of England's highest mountains.
Jason Taylor, 38, is a fell-top weather assessor for the Lake District National Park and regularly climbs Helvellyn to report on the summit conditions.
The Weatherline service has operated for 36 years and is used by more than half a million people each year.
The Christmas Day climb was cancelled in 2009 for the first time in 34 years due to a staff vacancy.
Mr Taylor, from Penrith, said: "My wife is Danish and we tend to celebrate on Christmas Eve.
"So Christmas Day for me will be walking off the excesses of the evening before.
"It will be good to get out, away from the in-laws and out on my own on the fells for the day."
Keeping warm
A seven day rota between December and April is shared with colleague Jon Bennett. This year Mr Taylor will be doing the Christmas shift for the first time.
"I will probably start walking about 10 o'clock from Glenridding and if I do the round up Striding Edge, down Swirral Edge, it will take about four and a half hours."
Wind speeds, temperatures, wind chill and general conditions at the 3,114ft (950m) summit are recorded daily.
Weather details are published online and available via a telephone service.
The assessors carry about 16lb (8kg) of equipment and are expected to make the ascent in two hours.
Keeping warm is a theme running through Mr Taylor's kit. Three hats, three sets of gloves, an extra jacket and a survival shelter are near the top of his rucksack. A map, compass, ice axe, goggles and a flask of hot food will also be found in there.
The former world travel leader, who has experience in locations including Iran and India, said while the Lake District mountains might look incredibly beautiful, conditions could be treacherous.
'Be prepared'
His advice to anyone thinking of heading out to the fells and mountains would be to take account of the conditions.
"What you see in the valleys is almost guaranteed to be vastly different from what is going on at the top of the fells" he said.
"Be prepared to change your plans, have a bit of humility, the fells are always going to be there."
The service was under threat earlier due to financial cuts but resumed on 3 December after sponsorship was found.